Facility
Balzers Turnhalle & Hallenbad
Gnetsch
41
9496, Balzers, Liechtenstein
The GAC utilizes two rooms within the Turnhalle facility for different practices.
There is free parking at the facility, with dressing rooms and showers on the ground floor, the Multipurpose Room on the first floor, and the Turnhalle on the second floor.
In addition there is an outdoor lawn space used for weapons work depending on weather conditions.
DRESSING ROOMS, SHOWERS & BATHROOMS
The Garderoben (dressing rooms), Duschen (showers) & WC (bathrooms) can be found downstairs from the entrance on the same level as the Hallenbad (swimming pool).
There are separate rooms for men and women.
AIKIDO DOJO
Indoor aikido training takes place in HALL 1 of the Turnhalle (gymnasium), this is located 1.5 staircases up from the entrance.
Outdoor aikido training takes place on the Lawn next to the Turnhalle.
AIKIDO HIIT CONDITIONING
The HIIT Conditioning training takes place in the Mehrzweckraum (multipurpose room).
This room is located in the Turnhalle Facility, one staircase up from the entrance.
CAMPUS MAP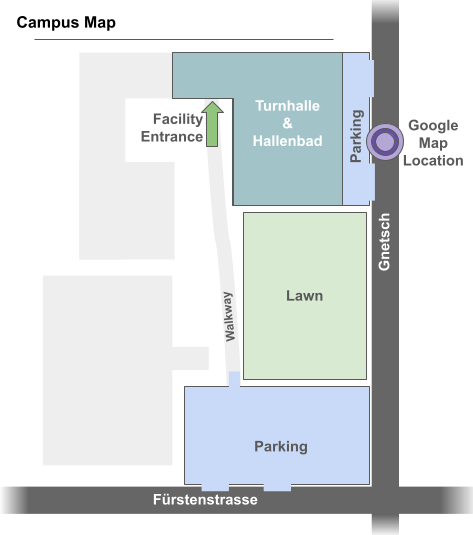 FACILITY LAYOUT